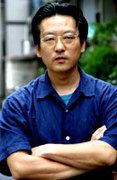 Koh OKABE was born on March 22, 1957, in Tokyo, Japan. He started taking photograph when he was fourteen years old and he published his first photographic book of "Fluid", professional folk music duet of the epoch, when he was twenty. He made his professional debut, in 1979, when he was twenty-two.
From then on, Koh OKABE never stopped taking photographs. He took the most famous Rock & Roll Japanese and International bands and artists for almost of mass media in Japan. He formed several of the young leading groups in the of Music Photographers' Association Japan (MPA) and organized several group-expositions and his own.
From 1985, he has been inclining to the World Music, where, for 15 years, photographed intensively the most important and historical artists of the world, like Astor Piazzolla, Juliette Greco, Michel Legrand, Ravi Shankar, Carmen Linares, Samulnori, Nusrat Fateh Ali Kahn, Luky Dube, Youssou N'dour, Kakraba Lobi, Elizeth Cardoso, Tito Puente, Amalia Rodrigues, Sting, Bruce Springsteen, et cetera.
His work reflects not only the portrayals of the artists at the concert, but also their sound and sentiment, therefore, is highly esteemed for rare and ideal combination of the art and the journalistic-or-commercial value.
Official Photographer of WOMEX (World Music Expo) 2005
Expositions realized in Tokyo, Osaka, Okinawa (Japan), Portugal, U.K, Czech Republic, Mexico et cetera.